---
---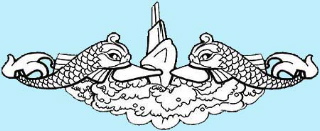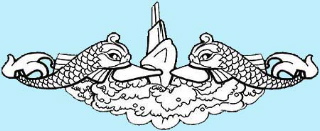 USS CHIVO (SS-341) Reunion Organization
All Hands Newsletter #86 - September 2018
---
---
?? - Here are two questions to test your submarine knowledge. First question - What and when was the first successful submarine versus submarine attack? Second question – What and when was the first successful submerged submarine versus submerged submarine attack? Good luck. The answers are somewhere in this newsletter.
---

Annual Chivo Board Meeting . . .
On September 13, 2018, President Bob Bernhardt, Reunion Director Peter McVicker, Treasurer Bob Kuphal, Secretary Dick Ogden and crew member Tom Dean convened the annual Chivo board meeting at the International Palms Resort in Cocoa Beach FL. Unable to attend was Vice President Chick McAleer (Hurricane Florence) and Communications Director Stan Pollard (family emergency). The primary purposes of the meeting was to preview the hotel's facilities, discuss tour options and review reunion contracts. As a result the board has decided that
The 2019 Chivo All-Hands Reunion will be
at the International Palms Resort in
Cocoa Beach, FL on October 20 – 24, 2019.
I have never been to the International Palms Resort, but it is my understanding from those that have been there that the facility was built in the 1970's or earlier. It is said that astronauts and their families stayed at the Palms Resort before their missions. The basic rooms and bathrooms are small, but everything is clean and well maintained. The ocean view rooms are larger and include a sitting room. There are even larger suites called lofts. Important note – Not all the buildings have elevators and there are stairs in the loft suites. If you have any mobility issues or needs, make sure you inform the hotel when registering, and they will find a suitable room for you. You can tour the resort at www.internationalpalmscocoabeach.com
---

Chivo Finances . . .
Bob Kuphal, our Treasurer and a CPA, reports that on August 31, 2018 the Chivo Reunion Organization had a balance of $6047.75 and no outstanding debts. Bob does an excellent job of maintaining our financial records and filing all required 501(C) 19 corporation paperwork with the state and the IRS. A copy of our quarterly financial statement is available for your inspection upon request to Stan at 341.stan@gmail.com.
---

New Board Members . . .
Terms for the current board members expire at our 2019 reunion. At our 2019 reunion business meeting we will elect or re-elect new board members. USS Chivo depended on all-hands pulling together and so does our Chivo reunions. This is your chance to contribute to the brotherhood. Please consider running for one of the following board positions: President, Vice President, Secretary, Treasurer, Reunion Director and Communications Director.
---
?? - On Oct 18, 1914 the submerged German submarine U-27 torpedoed and sunk the surfaced British submarine E-3 who was patrolling in the North Sea. That was the first successful submerged submarine versus surfaced submarine attack. Several more successful submerged submarine versus surfaced submarine attacks occurred in both WWI and WWII. In WWII submerged U.S. submarines sank 5 Japanese submarines on the surface, and in Nov 1943 the submerged Japanese submarine I-176 torpedoed and sank the surface running USS Corvina (SS-226).
---

Sonar Pings . . .
In March I introduced a new form of e-mail communications with the crew, "Sonar Pings". When USS Chivo wanted to gather information on a contact she could send out a sonar ping. The sonar ping would generate an echo, and Chivo could get a better solution for range, bearing and course for the contact. Our new "Sonar Pings" have a similar goal. We want to learn what the crew thinks.
Our first Ping asked: Should we send get well cards and / or condolence cards to shipmates? The majority of the responses favored sending a condolence card to the families of recently deceased crew members.
We designed a 5 X 7 folding card with a sunset image on the front and the words, "Your loved one lives in the hearts of his brothers". The top half of the inside is a picture of USS Chivo and the American Flag. The lower half of the inside explains that we hold a Memorial Service at our reunions for the departed, invites the family to attend and gives the Chivo web site location. The back of the card has a printed set of dolphins surrounded by the words, "U.S. Submarine Force" and "The Silent Service". You can view the card on our web site page "Condolence Card".
We had 40 cards printed with envelopes for $60.92 and have sent out 5 cards to date. We also received 3 nice responses from families thanking us for the cards and thoughts.
Our second Ping asked: Beyond reuniting shipmates, what are the most important factors we should consider when choosing a reunion location? The majority voted:

Tourist attractions, shows and a variety of things to do and see with many positive responses about theater shows and tourist attractions like Washington, D.C.
Minimizing travel distance. Most suggested a travel goal of no more than 400 – 600 miles. The majority of our crew lives in the Carolinas and Florida, so we will continue shopping for reunions in the Southeast.
Navy, submarine and military things to do and see. We had lots of great responses to the Blue Angels air show in Pensacola.
Minimizing the price of accommodations.
Other factors.
The second ping also generated a discussion about reunion alternatives:

A reunion cruise was brought up. While some enjoy cruises, most preferred to do it with family and not as a reunion venue. Also cruises are much more expensive than our current reunion format.
Combining our reunion with USSVI was brought up, but since they move around the U.S. many felt that the reunions would too far away to attend most years.
Combining our reunion with another boat. Nobody sees any value in bringing another group into our organization as it stands today.
Therefore, for the present, we will continue to hold Chivo reunions in the Southeast and keep our independent format.
---
?? - In February 1945, the German submarine U-864 was dispatched from Bergen, Norway on a secret mission to deliver supplies to Japan. U-864's primary cargo was advanced jet engine parts and missile guidance systems. She also carried 65 tons of mercury material for use in weapons production and experts in weapon systems to help Japan. England, with the help of code breakers, sent the submarine HMS Venturer to intercept the U-boat.
HMS Venturer arrived on station and began a submerged patrol, but the U-boat had already put to sea a few days earlier. &bbsp; On 6 Feb. in a twist of fate the U-boat began experiencing diesel problems and decided to return to port for repairs. The U-864 was equipped with the new snorkel system and started snorkeling submerged back to Bergen. Keep reading there's more later in this newsletter.
---
From The Quartermaster's Notebook . . .

Donations - Special thanks to these people for their generous contributions to the Chivo fund.

Rick Campbell, best selling author of The Trident Deception, Empire Rising, and Ice Station Nautilus donated an autographed copy of his latest book, Blackmail.
Nancy Griffin in memory of her father SO3(SS) Ronald C. Griffin (1953-1955).
TM2(SS) Phillip R. Younts (1967).
Donations help to make our reunions possible. Checks should be made payable to the "Chivo Reunion Organization" and mailed directly to our Treasurer: Robert Kuphal,, 3520 New Hartford Rd., Suite 301 Owensboro KY 42303.
---

Eternal Patrol - Since our April newsletter, I learned that the following Chivo crew members have passed away:

SN Leo A. Amero (1956) departed July 22, 2018.
ENDC John Buchanan (1945 Plankowner) departed July 02, 2018.
LCDR James N. D'Orso (XO 1962-1964) departed May 18, 2018.
SO3(SS) Ronald C. Griffin (1953-1955) departed July 26, 2018.
EM3(SS) William B. Holl (1945) departed September 5, 2013.
EM3(SS) James W. Lauritzen (1964-1966) departed September 10, 2017.
ENC(SS) Joseph T. Price (1949-1952) departed April 4, 2018.
QM1(SS) Patrick J. Stemrich (1954-1955) departed August 28, 2018.
ENC(SS) George H. "Buck" Warner (1966-1967) departed March 22, 2018.
---

Binnacle List - These shipmates are facing some serious challenges and would like to hear from you. A simple email, card or phone call means so much to them. Find out more info about your friends and their address on the Chivo web site page "Binnacle List."
ENC(SS) Stephen "Budda" Bien (62-64) email: 3kisses@bellsouth.net
RM2(SS) Gino M. D'Angelo (47-49) email: ginod99@aol.com
QM1(SS) William E. "Bill" Dixon (46-47) email: trappfarm@gmail.com
TM2(SS) John Hedum (1952-1956) email: jnjhedum@bellsouth.net
EMC(SS) William L. McNay (64-69) email: wlmcnay@cox.net
ETRSN(SS) William C. Priest (64-65) c/o Ruthann Priest 13230 Elkwood Ct., Midlothian VA 23112-1434
ET2(SS) Sherrell E. "Wolgy" Wolgamuth (53-56) at 8305 F. Street, Chesapeake Beach, MD 20732
---
?? - On February 9, 1945 HMS Venturer detected diesel noises and thought it might be fishing boats, but they couldn't see any. Then they spotted what they took to be periscopes. It was the U-864's snorkel. Not fully understanding snorkels, Venturer waited for the U-boat to surface and charge batteries. With her own batteries running low, the British submarine was forced into shooting a delayed, wide spread of 4 torpedoes toward the submerged target. Hearing the incoming torpedoes the U-864 took evasive maneuvers avoiding the first 3 torpedoes but unknowingly steering into the path of the fourth. The U-boat was sunk with all hands and its precious cargo for Japan. This is the first and only recorded successful attack by a submerged submarine on another submerged submarine.
---

Newsletter Volunteers - print and mail 10 copies of each and every newsletter to crew members that don't have computers.
Ed Caldwell (63-64)
Winton & Audrey Hewitt (53-56)
Loren & Cleo Jacobsen (55-57)
Doug & Cora Sue Johnson (70-71)
Jim & Mary Jane Landherr (62-64)
Tony & Sharon Lasher (61-62)

Chick & Jean McAleer (68-70)
Richard & Linda Ogden (59-60)
Stan & Carol Pollard (68-71)
Chuck & Mickey Rapp (61-64 & 68-69)
Dale & Nancy Work (61-62)
These crew members have served faithfully for the last two years and some even much longer. It's time to give them a break. If you would like to volunteer contact Stan at 341.stan@gmail.com.
---
CHIVO Organization Board Members and Contacts:
| | | |
| --- | --- | --- |
| President | Bob Bernhardt (71 Decom) | |
| Vice President | Charles "Chick" McAleer (68-70) | |
| Treasurer | Bob Kuphal (64-66) | |
| Secretary | Richard "Dick" Ogden (59-60) | |
| Reunion Director | Peter McVicker (69-70) | |
| Communications Director | Stan Pollard (68-71 Decom) | |
---
The mission of the CHIVO Reunion Organization is:
(1) to perpetuate the memory of our shipmates and their deeds, to promote good fellowship and comradeship, and to pledge loyalty and patriotism to the United States of America.
(2) to participate in activities that foster recognition of the contributions made by members of all Armed Forces and their families, both Past and Present, that uphold the spirit of the Declaration of Independence.
(3) to provide aid and comfort to service members in need.
We have no dues, and we have a lot of fun!
Green Board, Stan
Stan Pollard - Communications Director
3016 Bayberry Cv.
Wooster, OH 44691-5912

email: 341.stan@gmail.com
phone: (330) 749-7151
---
---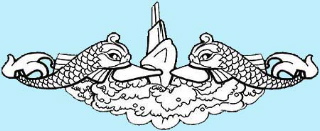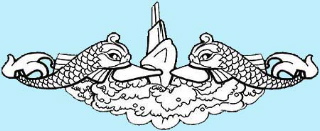 USS CHIVO (SS-341)
All Hands Newsletter #86 - September 2018
---
---
---