The CHIVO Chimes



At Sea
21 July 1945

Submitted by TM2(SS) Jerry Levy, Plankowner




---
***THE CHIVO CHIMES***
JULY 21, 1945
MANILA, FRIDAY JULY 20 (UP):


A POWERFUL AMERICAN AERIAL FORCE FROM OKINAWA SET GREAT FIRES RAGING IN SHANGHAI. THE ATTACK ON SHANGHAI WAS THE FIRST FULL SCALE RAID EVER MADE AGAINST THAT MAJOR CHINESE CITY WHICH STANDS SIXTEENTH AMOUNG THE WORLDS AND IS THE LARGEST CITY HELD BY THE JAPANESE OUTSIDE THEIR HOMELAND. MORE THAN 200 LIBERATORS MITCHELLS AND THUNDERBOLTS HIT THE AIRFIELDS AND THE SHANGHAI HARBOR WITH NEARLY 300 TONS OF EXPLOSIVES RAINING DOWN ON THE MAIN AIRDROEM NORTH OF THE CITY. THE KIANGAN AIRDROEM WHICH CONTAINS THE LARGEST CONCENTRATION OF JAPANESE AIRCRAFT IN CHINA HAS EXTENSIVE BARRACKS, 15 MAJOR HANGERS, NUMEROUS SHOPS AND A LARGE STORAGE AREA. IT HAS FOUR CONCRETE BOMBER RUNWAYS WHICH THE JAPANESE ARE WIDENING AND LENGTHENING AND TWO FIGHTER RUNWAYS. THE AMERICANS CAME IN THROUGH A HOLE IN HEAVY OVERCAST, AND SAID THEY SAW ALL BOMBS LANDING IN THE TARGET AREA. NO JAPANESE PLANES ATTEMPTED INTERCEPTION, BUT GROUND FIRE WAS HEAVY. TWO HEAVY BOMBERS ARE MISSING FROM THE ATTACK, ONE OF WHICH EXPLODED OVER THE TARGET.
GUAM:


GRATEFUL NATIVES AND THOUSANDS OF MEMBERS OF AMERICAN ARMED FORCES JOINED HANDS TO CELEBRATE THE FIRST ANNIVERSARY OF THE LIBERATION OF THIS ISLAND BASE FROM THE JAPS. INFORMALITY WAS THE KEYNOTE IN A DAY MARKED BY MUSIC DANCING AND OPEN HOUSE HOSPITALITY OFFERED BY THE GUAMANIANS. A SPEECH BY ADMIRAL NIMITZ WAS THE ONLY OFFICIAL TOUCH. NATIVES IN THE TOWN OF INARAJEN DECORATED THEIR HOUSES WITH HIBISCUS AND PALM FRONDI. AMERICAN NOTICES CROWDED THE BULLETIN BOARDS ONCE PLASTERED WITH JAPS ORDERS. ADMIRAL NIMITZ SAID "THE STORY OF THE RECONQUEST OF GUAM BEGINS WITH THE SMASHING VICTORY OF AMERICAN ARMS OVER THE JAPS WHO ONE YEAR AND ONE DAY AGO WERE PRESENT ON THIS ISLAND EIGHTEEN THOUSAND STRONG. THEN WE WON OVER THE WEATHER AND JUNGLE AND THEN CAME OUR GREAT OFFENSIVE TODAY GUAM IS A POWERHOUSE."
WASHINGTON:


THE ARMY AND NAVY JOURNAL AN OFFICIAL SERVICE PUBLICATION SAID TODAY THAT PRESIDENT TRUMAN CARRIED TO THE BIG THREE CONFERENCE A DRAFT OF JAP SURRENDER TERMS AS FAVORED BY THE STATE, WAR AND NAVY DEPARTMENTS. THESE THE JOURNAL SAID CALL FOR THE TOTAL LOSS TO JAPAN OF WHAT REMAINS OF HER FLEET AND AIR FORCE AS WELL AS FOR OTHER MILITARY DISARMEMENT, THE LOSS OF TERRITORY OUTSIDE THE HOME ISLANDS, THE DESTRUCTION OF HER WAR INDUSTRIES, THE COMPLETE CONTROL OF HER ECONOMY BY THE UNITED NATIONS AND THE SURRENDER OF DESIGNATED WAR CRIMINALS.
(CONTINUED)
---
PAGE 2 (CONTINUED)

WASHINGTON:


PRESIDENT TRUMAN'S STATEMENT THAT THE UNITED STATES IS NOT SEEKING "ONE PIECE OF TERRITORY" PROMOTED CONGRESSIONAL DEMAND TODAY THAT THIS CONTRY RETAIN COMPLETE CONTROL OF STRATEGIC ISLANDS IN THE PACIFIC.
SAN FRANCISCO:


THE JAPANESE DECLARED THAY HAD INVENTED A NEW SECRET WEAPON, "IN EVERY SENSE OF THE WORD" WHICH FUNCTIONED BEST IF RUN BY SPECIAL ATTACK SUICIDE OPERATIVES.
LONDON:


A BRITISH FOREIGN OFFICE SPOKESMAN DECLARED TODAY THAT IT "IS NOT WITHIN OUR POWER" TO WAIVE SUEZ CANAL TOLLS ON AMERICAN SHIPS CARRYING SOLDIERS AND EQUIPMENT TO THE PACIFIC THEATER. (RATHER BAD EH NOT OLD CHAPPIE --- DAMN THE LIMEYS)
OMAHA:


A SUGGESTION THAT THE WORLD SERIES BE HELD IN THE PACIFIC AND THAT FREE TICKETS BE DROPPED BEHIND THE LINES OF THE BASEBALL LOVING JAPANESE WAS MADE EDITORIALLY TODAY BY THE WORLD HERALD.
ABILENE, KANS:


PROUD KANSAS FROM NEAR AND FAR TODAY LAUNCHED THE EISENHOWER MEMORIAL FOUNDATION MOVEMENT DESIGNED EVENTUALLY TO ERECT HERE ONE OF THE PRINCIPAL SHRINES OF WORLD WAR TWO.
HARFOTD, NY:


MRS. WILLIAM VOORHEES REPORTED A NEW KIND OF CHICKEN THIEF TODAY. SHE TOLD POLICE THAT SOMEONE STOLE THIRTEEN OF THE LARGEST CHICKENS IN HER FLOCK AND REPLACED THEM WITH THIRTEEN OTHERS AVERAGING TWO POUNDS OR LESS APIECE.
ATLANTA, GA:


COMMANDO KELLY A MARRIED MAN NOW AND HOMER LEE WISE BOTH WEARERS OF THE CONGRESSIONAL MEDAL LEFT FORT BENNING TODAY FOR FORT MCPHERSON AND A DISCHARGE. (WELL BOYS ALL YOU GOT TO DO IS GET A CONGRESSIONAL MEDAL OF HONOR AND YOU CAN GET A DISCHARGE TOO)
(CONTINUED)
---
PAGE 3 (CONTINUED)

LONDON:


THE MAIN TRIALS OF GERMAN ARCH CRIMINALS OF WAR MAY BE HELD AT THE NAZI SHRINE CITY OF NUREMBERG. JUSTICE ROBERT H JACKSON CHIEF UNITED STATES PROSECUTOR AND REPRESENTATIVES OF THE BRITISH AND FRENCH GOVERNMENTS FLEW TO NUREMBERG TODAY TO INSPECT A PROPOSED SITE.
MONDORF, LUXEMBOURG:


REICHSMARDHAL HERMANN GOERINGH'S DIET OF SEDATIVES ARE BEING GRADUALLY REDUCED AND HE IS COMPLAINING ABOUT IT. (POOR BOY)
WASHINGTON:


TWO SENATE HOLDOUTS, SHIPSTEAD REPUBLICAN, MINNESOTA, AND LANGER REPUBLICAN OF INDIANA SAID TODAY THEY HAD NOT DECIDED HOW THEY WILL VOTE ON THE UNITED NATIONS CHARTER. ONLY JOHNSON REPUBLICAN, CALIFORNIA (HASSON'S FRIEND I'LL BET!) HAS REGISTERED FLAT OPPOSITION.
WASHINGTON:


THE MOTOR MINE-SWEEPER YMS 84 HAS BEEN LOST IN THE BORNEO AREA FROM ENEMY ACTION THE NAVY ANNOUNCED TODAY. CASUALTIES INCLUDED TEN WOUNDED MEN.
WASHINGTON:


REFERRING TO TREATMENT OF JAPANESE OFFICIALS CAPTURED IN GERMANY REPS. SPRINGER, REPUBLICAN OF INDIANA ASSERTED TODAY THAT "OUR NATION HAS ELECTED TO COBBLE AND PAMPER HIGH OFFICIALS OF JAPAN WITHOUT ANY JUSTIFICATION OR EXCUSE."
WASHINGTON:


CIVILIAN MEAT SUPPLIES WILL DROP TO THE PRE-WAR AVERAGE THIS YEAR FOR THE FIRST TIME SINCE 1941. DESPITE LARGE MILITARY AND LEND LEASE REQUIREMENTS CIVILIAN CONSUMPTION IN THE WAR YEARS HAS BEEN ABOVE THE 1935, 1939 AVERAGES. THE APPARENT SHORTAGE REFLECTS A RECORD PURCHASING POWER. CIVILIANS AS A GROUP HAVE HAD MORE MONEY WITH WHICH TO BUY MEATS.
HOLLYWOOD:


FRED MCMURRAY HAS MADE A SETTLEMENT WITH HIS WIFE, CLEATUS CALDWELL AND GIVEN HER CUSTODY OF THEIR TWO SONS BUT WITH A STIPULATION THAT NEITHER CHILD SHALL BE EMPLOYED AS A MOVIE ACTOR.
(CONTINUED)
---
PAGE 4 (CONTINUED)

RENO:


RENO'S MALES TODAY TURNED TO WEARING OF "FIG LEAVES" THATS THE NAME OF THE NEWEST IN UNDERGARMENTS NOW OFFERED FOR SALE IN LOCAL HABERDASHERIES. THEY ARE SUBSTITUTES FOR MENS SHORTS OF WHICH IN RENO THERE ARE NONE. THE FIG LEAF IS A SORT OF GEE STRING WITH LONG STRAPS FORE AND AFT RUNNING FROM THE SHOULDERS DOWNWARD AND FASTENED WITH FOUR SNAPS.
OAKLAND, CALIF:


THE NAVY AIR TRANSPORT SERVICE OPENED ITS NEW GIANT PASSENGER TERMINAL IN OAKLAND TODAY. THE TERMINAL HAS FACILITIES TO HANDLE MORE THAN TWENTY THOUSAND PERSONS A MONTH.
PORTLAND, OREGON:


A DRIZZLE OF RAIN IN NORTHWEST OREGON GAVE NEW HOPE TODAY TO THE TWO THOUSAND MEN FIGHTING A LOSING BATTLE AGAINST A SEVENTY SQUARE MILE FOREST FIRE.
WASHINGTON:


THE HOUSE ADJOURNED TODAY FOR ITS LONGEST VACATION SINCE 1938. BARRING EMERGENCIES IT WON'T RETURN UNTIL OCTOBER EIGHT.
LONDON:


YORKSHIRE FARMERS ARE COMPLAINING THAT THEY HAVE TO BRIBE GERMAN PRISONERS WITH CIGARS AND CIGARETTES TO GET THEM TO DO THE SIMPLEST FARM WORK AND TOWNSPEOPLE ARE ANGRY WITH THE FARMERS FOR USING THESE METHODS TO KEEP THE GERMAN PRISONERS FROM SULKING. (SUCKERS)
------SORRY THERE ISN'T MORE GOOD WAR NEWS, BUT NONE WAS SENT, SOOOOO IF WE DON'T GET THE DOPE WE CAN'T GIVE IT OUT.
IT WAS HEARD TODAY ON BROADCAST THAT AMERICAN UNDERWATER BOATS HAD SUNK ELEVEN JAPANESE SHIPS. (SOUNDS GOOD)
OVER FOR THE SPORTS PAGE
---
S P O R T S N E W S
WASHINGTON:


THE SENATORS FORGED AHEAD TO OVERCOME AN EARLY THREE RUN LEAD AND CONQUER THE INDIANS SEVEN TO FOUR. CLEVELAND FOUR RUNS EIGHT HITS TWO ERRORS, WASHINGTON SEVEN RUNS EIGHT HITS ONE ERROR.
CINCINNATI:


THE GIANTS BUILT UP A THREE RUN LEAD IN THE FIRST INNING TO LEAD THE REDS ALL THE WAY WINNING SIX TO THREE. NEW YORK SIX RUNS NINE HITS NO ERRORS. CINCINNATI THREE RUNS NINE HITS ONE ERROR.
WASHINGTON:


THE TIGERS EXECUTED A TRIPLE PLAY TONIGHT BUT THEY LOST A DOUBLE HEADER TO THE SENATORS FOUR TO THREE AND THREE TO ONE. THE TRIPLE PLAY THE FIRST HERE SINCE 1943 WAS MADE BY EDDIE MAYO WHO LEAPED TO CATCH A LINE DRIVE THREW TO WEBB WHO IN TURN TOSSED TO YORK, TO COMPLETE THE TRIPLE KILLING. FIRST GAME DETROIT THREE RUNS EIGHT HITS ONE ERROR, WASHINGTON FOUR RUNS FOURTEEN HITS NO ERRORS. SECOND GAME, DETROIT ONE RUN FOUR HITS ONE ERROR, WASHINGTON THREE RUNS NINE HITS ONE ERROR.
MAJOR LEAGUE STANDINGS
| | |
| --- | --- |
| AMERICAN INCLUDING GAMES OF THE 20TH | NATIONAL INCLUDING GAMES OF THE 20TH |

DETROIT - 1ST PLACE
WASHINGTON
NEW YORK
BOSTON
CHICAGO
ST LOUIS
CLEVELAND
PHILADELPHIA

WON
46
42
41
42
42
39
37
28

LOST
34
26
38
39
40
38
41
51

PERCENT
575
538
518
518
512
506
474
354


CHICAGO - 1ST PLACE
ST LOUIS
BROOKLYN
PITTSBURG
NEW YORK
BOSTON
CINCINNATI
PHILADELPHIA

WON
50
48
47
43
45
40
38
24

LOST
31
36
37
41
43
42
40


PERCENT
617
571
560
512
511
488
487
270

NEW YORK: MAJOR LEAGUE BATTING EADERS,

NATIONAL ------ HOLMES BOSTON 382, ROSEN BROOKLYN 366

AMERICAN ------ CUCINELLO CHICAGO 328, CASE WASHINGTON 326.
------ THAT'S ALL FOR TONIGHT FELLOWZ ------
---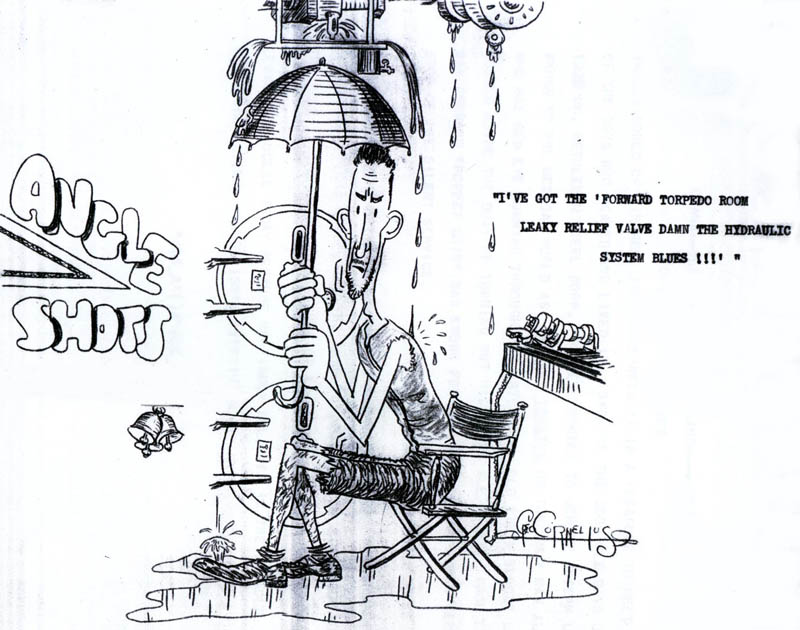 "I'VE GOT THE 'FORWARD TORPEDO ROOM LEAKY RELIEF VALVE
DAMN THE HYDRAULIC SYSTEM BLUES !!!"
THAT'S JERRY LEVY IN THE CARTOON
---
CLANG --- CLANG --- CLANG --- CLANG ---CLANG
TOPICS OF THE CHIMES
IN THIS WORLD OF KINDNESS AND TENDERNESS IT IS A PLEASURE TO MEET ONE OF THE BOYS WHO REAMED AND LIKED IT. BACK IN THE GOOD OLD DAYS OF 1938 MR. BETHLEM STEEL CORP. POINTED PROUDLY TO JEROME JOSEPH LEVY, KNOWN TO THE MEDICAL WORLD AS HUMANUS TOMATUS OR THE ONLY MAN ALIVE WHO HAS RED EYE RUNNING THROUGH HIS ARTERIES. OLD "THIN BLOOD" LEVY TOSSED ASIDE THE DUTY OF TURNING OUT HIS QUOTA ALL RIGHT. FROM THAT DAY FORWARD "POPPET CHIN" WAS KNOWN FAR AND WIDE AS THE HUMAN TAIL STOP OF THE SILENT SERVICE.
SURROUNDED BY THE OPTIMISM OF "WHELP" PHELPS, THE GOOD CHEER OF "BIFF", "HANGFIRE", "TUBA NOSE", AND THE ANGELIC INNOCENCE OF "GALENTO" HASSON, THE HOLE IN THE DOUGHNUT ATTITUDE OF "SPINDLE" JOE IS A VALUABLE ONE.
LEVY IS A SUCESS TODAY BECAUSE HE FIRMLY BELIEVED IN THE AGE-OLD BALTIMORE SAYING: BLOOD ISN'T EVERYTHING.
$/&'% *()%#! */'%#
---
[BACK]
---