The CHIVO Chimes....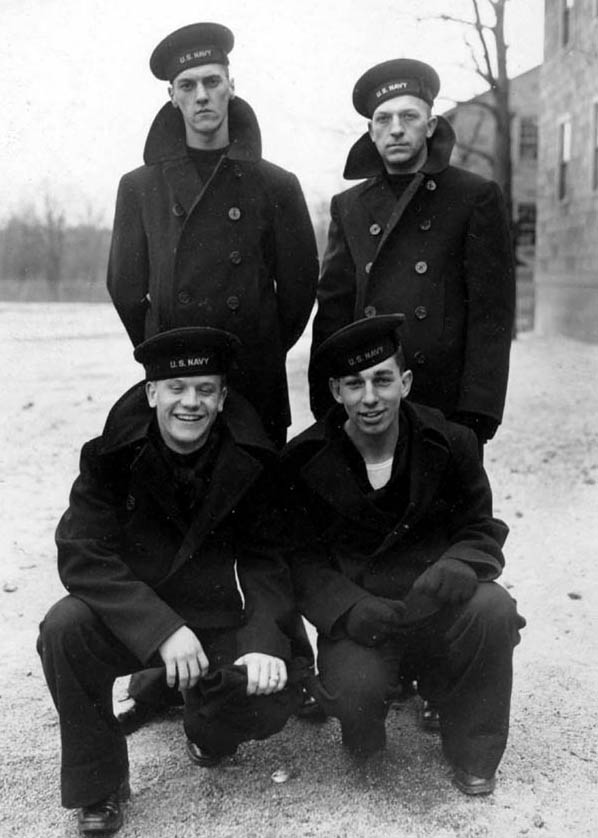 Jerome Joseph "Jerry" Levy, Sr.
joined the Navy following the attack on Pearl Harbor and served as a torpedoman in the submarine service through the end of the war. He reported on board USS CHIVO as part of her commissioning crew and is a "Plankowner." During his tour on CHIVO, the Goat Boat published a newspaper called The CHIVO Chimes. Jerry, a TM2(SS) at that time, even appears in some of the paper's cartoons. He kept copies of several issues of The CHIVO Chimes from June and July of 1945 and mailed them home to his family.
Jerry Levy is the tall skinny sailor standing on the left in the picture. The others are unknown.
After the war, Jerry left the Navy and returned to Baltimore, where he married Helen Catania and raised five children. Now retired, he lives in suburban Baltimore, where he still bowls, turns off Orioles' baseball games in disgust, and generally shares himself and his love with his large family of children, grandchildren, and now great-grandchildren.
The CHIVO Chimes included recent war news, plus all the latest happenings in Washington, Hollywood, and around the world. In The CHIVO Chimes you can read about the fire bombing of Japanese cities, the crashing of a bomber into New York's Empire State Building, get the latest sports scores, and even enjoy some "Goat Boat" cartoons of the crew.
---
Jerry later gave his copies of The CHIVO Chimes to his grandson, Drew, at Princeton University. Drew found our web site, and ... well, here's The CHIVO Chimes with all the latest news on board the "Goat Boat."
---
Webmaster's note: The originals of The CHIVO Chimes did not reproduce well, so I retyped them for clarity. I have tried to closely approximate the original type font, spacing, and spelling. I have twelve editions of The Chimes, and so as not to overwhelm either your or me, I will try to add one new edition to the web site each week. All you need to do is double click on the buttons below to read the last news in The CHIVO Chimes.


---
[BACK]
---