The CHIVO Chimes



26 July 1945

Submitted by TM2(SS) Jerry Levy, Plankowner




---
***THE CHIVO CHIMES***
JULY 26, 1945
###########################################################
PLEASE PASS THESE COPIES ON, WE WANT ALL TO SEE THAT WISHES TO. WE CAN MAKE BUT A LIMITED NIMBER OF COPIES. THINK OF YOUR SHIPMATES, AND PASS THEM ON. THANKS!!!!
###########################################################
B 29 RAID:


MORE THAT THREE HUNDRED FIFTY SUPERFORTS FROM THE MARIANNAS DUMPED BETTER THAN TWENTY-TWO HUNDRED TONS OF FIRE BOMBS ON THREE JAPANESE INLAND CITIES BEFORE DAWN FRIDAY ENEMY TIME. RAID WAS ON OMUTA, MATSUKAMA, AND TOKUYAMA AND PILED MORE EMPHASIS ON GENERAL DOOLITTLES PROMISE THAT, "AMERICAN BOMBERS SOON WILL CONVERT JAPAESE ISLANDS INTO A NATION WITHOUT CITIES". OMUTA CHEMICAL PRODUCTION CENTER AND COAL PORT ON KYUSHU ISLAND TOOK ITS SECOND INCENDIARY RAID. MATSUYAMA ON WESTERN SHIKOKU ISLAND AND TOKUYAMA IN SOUTHWESTERN HONSHU HAD BEEN HIT BEFORE IN DEMOLITION BOMBINGS, BUT FRIDAY STRIKES WERE THEIR FIRST FIRE ATTACKS. TWENTIETH AIR FORCE HEADQUARTERS ANNOUNCED B 29'S HAVE DEVASTATED ONE HUNDRED FORTY THREE SQUARE MILES IN THIRTY NINE JAPANESE CITIES.
SOMEWHERE OFF JAPAN:


THURSDAY BATTLEWAGONS AND CARRIERS OF ALLIED PACIFIC FLEET ROAMED THE PACIFIC, READY TO LET FLY ANOTHER MAN MADE TYPHOON OF BOMBS, ROCKETS, TORPEDOES AND BULLETS AGAINST ENEMY HOMELAND. ONLY FOG THAT ROLLED IN WEDNESDAY SAVED ENEMY FROM ANOTHER CRUSHING CARRIER PLANE BLOW SUCH AS TUESDAYS WHICH DAMAGED THREE BATTLESHIPS, SIX AIRCRAFT CARRIERS AND FIVE CRUISERS. IN FIFTEEN DAYS OF RELENTLESS SLUGGING, ALLIED NAVAL FORCES THROUGH TUESDAY HAD SUNK OR DAMAGED SIX HUNDRED TWENTY JAPANESE SHIPS, WARSHIPS AND MERCHANT VESSELS, AND DESTROYED OR DAMAGED SEVEN HUNDRED SEVENTY EIGHT PLANES.
MANILA:


GENERAL MAC ARTHUR ANNOUNCES IN LATEST COMMUNIQUE, THAT SEVENTH AIR FORCE HEAVY BOMBERS ATTACKED IMPORTANT AIR CENTER OF TWUICI ON JAPANESE HOMELAND OF KYUSHU. WHOLE AREAS WERE LEFT IN FLAMES AND ROCKED BY REPEATED EXPLOSIONS. OTHER HEAVY BOMBERS FROM OKINAWA CRATERED RUNWAYS ON KIKAI ISLAND IN RYUKYUS SOUTH OF KYUSHU. FORTY ONE JAPANESE OFFERED BATTLE, AND SEVEN OF THIRTY ENEMY INTERCEPTORS THAT ROSE TO CHALLENGE BOMBERS WERE SHOT DOWN. ONE AMERICAN BOMBER WAS LOST. BOMBERS AND FIGHTERS RETURNED TO ATTACK ON SHANGHAI UNLOADED FOUR HUNDRED TONS OF BOMBS ON FOUR ENEMY AIRFIELDS AND SHIPPING.
(CONTINUED)
---
PAGE 2 (CONTINUED)

CHUNGKING:


CHINESE HIGH COMMAND REPORTED TWO TRIUMPHS FOR CHINESE ARMY IN CAPTURING OF NAMYUNG ONE HUNDRED FIFTY FIVE MILES NORTHWEST OF CANTON AND SEIZURE OF RAILROAD TOWN OF YUNGFUO IN NORTHERN KWAGSI PROVINCE. NAMYUNG IS SEVENTH FORMER AMERICAN AIR BASE CITY TO BE RETAKEN FROM THE JAPANESE IN RECENT MONTHS. RECOVERY OF NAMYUNG OPENED WAY FOR RESUMPTION OF SHIPPING OF WOLFRAN TO AMERICAN STEEL MILLS. RICH WOLFRAN MINING AREAS NEAR NAMYUNG ALREADY ARE IN CHINESE HANDS. CAPTURE OF YUNGFU WAS STANDOUT DEVELOPMENT IN CHINESE MULTIPROLONGED DRIVE TO TAKE KWEILIN, ANOTHER FORMER AMERICAN AIR BASE.
ON BORNEO:


AUSTRALIAN TROOPS HAVE MOVED STEADILY NORTHWARD ALONG INLAND ROAD FROM BALIEAPAPAN AND HAVE ENCOUNTERED SMALL GROUPS OF JAPANESE SOME SIX MILES NORTH OF FALLEN ENEMY STRONGPOINT OF BATOCHAMPAR.
WASHINGTON:


THE WAR DEPARTMENT REVEALED PLANS THURSDAY TO DEPLOY SEVEN MILLION SOLDIERS FOR ONE GIGANTIC KNOCKOUT PUNCH UNLESS JAPAN HEEDS POTSDAMS LITIGATION OF SURRENDER OR BE DESTROYED. NEW CHIEF OF ARMY GROUND FORCES, GENERAL JACOB DEVERS, SAID HE HOPED TO GET SEVEN MILLION MEN REDEPLOYED AGAINST JAPANESE FOR SINGLE BLOW. HE ADDED, "THERES NO USE TO DOING IT PIECEMEAL". SEVEN MILLION TOTAL WILL BE THE APPROXIMATE SIZE OF ARMY AFTER PARTIAL DEMOBILIZATION. GENERAL DEVERS EXPLAINED HE DID NOT MEAN THE WHOLE SEVEN MILLION WILL ACTUALLY BE ON FIRING LINE. MILLIONS WILL BE IN ARMY SERVICE FORCES AND OTHER BRANCHES IN UNITED STATES AND ELSEWHERE, BUT ALL WILL BE PART OF SINGLE TEAM WITH SINGLE OBJECTIVE.
WASHINGTON:


NAVY REVEALS CRUISER SANTA FE HAS ESTABLISHED RECORD ON LONGEST FRONTLINE TOUR FOR ANY MAJOR WAR UNIT. SANTA FE MADE THIS WHEN SHE STEAMED MORE THAN TWO HUNDRED TWENTY ONE THOUSAND MILES IN TWENTY FIVE MONTHS WITHOUT OVERHAUL. BEFORE RETURNING TO WEST COAST RECENTLY FOR ROUTINE REPAIRS, THIS VESSEL SANK SEVEN JAP SHIPS AND DOWNED SEVEN ENEMY PLANES WHILE PARTICIPATING IN FORTY TWO AIR STRIKES, TWELVE SHORE BOMBARDMENTS, FOUR SURFACE ACTION. DURING THIS TOUR OF ACTION, SANTA FE DID NOT LOSE MAN OR SUFFER ANY SERIOUS DAMAGE.
QUINCY, MASS:


TWENTY TWO HUNDRED TON DESTROYER U.S.S. JOSEPH KENNEDY JR. WAS LAUNCHED THURSDAY AT QUINCY, MASSACHUSETTS. DESTROYER WAS NAMED IN HONOR OF LIEUT. JOSEPH KENNEDY JR. SON OF AMERICAS FORMER AMBASSADOR TO BRITAIN.
(CONTINUED)
---
PAGE 3 (CONTINUED)

THESE ARE THE TERMS OFFERED BY THE UNITED NATIONS TO THE JAPANESE.
- ELIMINATION OF JAPANESE LEADERS WHO DECEIVED AND MISLED THEIR PEOPLE.
- OCCUPATION OF JAPANESE TERRITORY TO BE DESIGNATED BY ALLIED NATIONS, UNTIL "ESTABLISHMENT OF NEW ORDER OF PEACE, SECURITY, JUSTICE".
- SHRIKAGE OF JAPANESE SOVEREIGNTY TO INCLUDE ONLY HOME ISLANDS AND SUCH MINOR ISLANDS NAMED BY ALLIES.
- COMPLETE DISARMAMENT OF JAPANESE MILITARY FORCES AND MEN TO BE PERMITTED TO RETURN HOME AND LEAD PEACEFUL LIVES.
- PUNISHMENT OF ALL WAR CRIMINALS INCLUDING THOSE WHO TORTURED ALLIED PRISONERS.
- JAPANESE DISARMAMENT AND LIMITED INDUSTRIAL PRODUCTION.
POTSDAM DISPATCHES SAID PROCLAMATION WAS DRAWN UP BY TRUMAN AND CHURCHILL, WHO SUBMITTED IT TO CHIANG, CHINESE LEADER PROMPTLY CONCURRED. ALLIED ULTIMATUM CAME ON TWENTY FOUR HOURS AFTER TOKYO RADIO HAD URGED UNITED STATES TO ADOPT MORE LENIENT ATTITUDE TOWARD JAPAN AND INDICATED POSSIBILITY OF SURRENDER IF EASIER TERMS WERE GRANTED. IN REFERENCE TO THEIR ENEMY BROADCAST, ACTING STATE SECRETARY JOSEPH GREW, SAID IN WASHINGTON, JAPANESE MILITARISM MUST BE CRUSHED, AND THAT POLICY OF GOVERNMENT WILL CONTINUE TO BE "UNCONDITIONAL SURRENDER".
IN BRITAIN:


THE LABOR PARTY WHICH ADVOCATED SOCIALISM PROGRAM FOR NATIONAL RECONSTRUCTION STUNNEDLY DEFEATED PRIME MINISTER CHURCHILL'S CONSERVATIVE PARTY IN BRITISH GENERAL ELECTION. LABORITES ROLLED UP TWO TO ONE MAJORITY WINNING 381 OF THE 640 SEATS IN THE HOUSE OF COMMONS, THE CONSERVATIVES WINNING ONLY 193.
STILL SMOKING ONE OF HIS FAVORITE CIGARS CHURCHILL MOTORED TO BUCKINGHAM PALACE. THERE HE HANDED IN HIS SEAL OF OFFICE AND REQUESTED THE KING TO SUMMON MAJOR CLEMENT ATTLEE LEADER OF THE LABOR PARTY TO PRIME MINISTERSHIP. HALF AN HOUR LATER ATTLEE ARRIVED AT THE PALACE AND THE KING FORMALLY REQUESTED HIM TO FORM A NEW GOVERNMENT. CHURCHILL'S BID FOR POSTWAR LEADERSHIP FOR BRITAIN HAD FAILED IN ONE OF THE MOST SENSATIONAL ELECTIONS IN MODERN BRITISH HISTORY. CHURCHILL AND FOREIGN MINISTER ANTHONY EDEN WERE RETURNED TO PARLIMENT BUT CONSERVATIVE PARTY WHICH HAD RULED FOR 10 YEARS INCLUDING WAR TIME COALITION WAS SWEPT FROM OFFICE AND LABOR PARTY HOISTED IN TO TAKE ITS PLACE.
(CONTINUED)
---
PAGE 4 (CONTINUED)

INGLEWOOD CALIFORNIA:


NORTH AMERICAN AVIATION COMPANY IN INGLEWOOD REPORTS THE FASTEST PLANE PRODUCED IN AMERICA HAS BEEN IN PRODUCTION FOR MONTHS AND NOW IS READY FOR PACIFIC ACTION. AN IMPROVED VERSION OF THE MUSTANG FIGHTER AND DESIGNATED AS P_ _ _ _ _, THE ARMY'S DESIGNATION FOR FIGHTER. IT HAS MORE SPEED, LONGER RANGE AND HIGHER CEILING. THE PLANE WILL TRAVEL BETTER THAN 460 MILES PER HOUR. HAS A COMBAT RANGE OF MORE THAN 2000 MILES AND WILL OPERATE EFFICIENTLY UP TO 42000 FEET. THE ARMAMENT INCLUDES FITTINGS TO CARRY TEN RAIL ROCKETS UNDER THE WINGS GIVING IT "DESTRUCTIVE BLAST OF A DESTROYER'S FULL BROADSIDE".
GUAM:


MAJ. GEN. CURTIS LE MAY HAS DISCLOSED THE TWENTIETH AIR FORCE HAS NOW REACHED FULL OPERATIONAL STRENGTH WITH FIVE B-29 WINGS BASED IN THE MARIANAS. HE ALSO REPORTED THAT PRIOR TO FRIDAY'S RAIDS RECCONAISSANCE HAD DISCLOSED THAT DEVASTATION IN JAPAN'S URBAN INDUSTRIAL AREAS HAD REACHED 143 SQUARE MILES IN 39 CITIES.
ALBANY NEW YORK:


NEW YORK EMPLOYERS WHO REFUSE JOBS TO PERSONS OF JAPANESE OR GERMAN DESCENT BECAUSE OF THEIR RACIAL ORIGIN ARE VIOLATING THE STATE OF NEW YORK'S LAW JULIUS J. RICHARDS OF THE COMMISSION AGAINST DISCRIMINATION ASSERTED THURSDAY.
WASHINGTON:


SENATORS HEARD THURSDAY THAT THE ARMY ALLOCATED 480000 GALLONS OF GASOLINE AND 75 TONS OF RUBBER TO PAN AMERICAN HIGHWAY PROJECT IN 1943 WHEN BOTH COMMODITIES WERE IN EXTREMEMLY SHORT SUPPLY.
LONDON:


ANTHONY EDEN FOREIGN SECRETARY OF THE DEFEATED CHURCHILL GOVERNMENT SAID THURSDAY NIGHT THAT HE WOULD RETURN TO THE POTSDAM CONFERENCE IF HE WERE ASKED AND WOULD CONTINUE TO DO HIS BEST TO HELP.
PRODUCTION OF ENGINES FOR ARMY'S B-29'S WAS REDUCED TO A MERE TRICKLE TODAY BY NEARLY 48000 STRIKING WORKERS IN PLANTS IN ILLINOIS AND NEW JERSEY. MORE THAN 18000 ARE OUT IN CHICAGO IN CHRYSLER CORPORATIONS DODGE CHICAGO PLANT WORLDS LARGEST AIRPLANE MANUFACTURER. THAT STRIKE BEGAN YESTERDAY. ONE UNION LEADER TERMED CAUSES AS AN ACCUMULATION OF GRIEVANCES.
BASEBALL:


AMERICAN LEAGUE:


NEW YORK 13 -----PHILADELPHIA 4 (ONLY GAME)



NATIONAL LEAGUE:


ST. LOUIS 10 -----PITTSBURGH 2


CHICAGO 2 -----CINCINATTI 1 (NO OTHER GAMES)
(CONTINUED)
---
PAGE 5 (CONTINUED)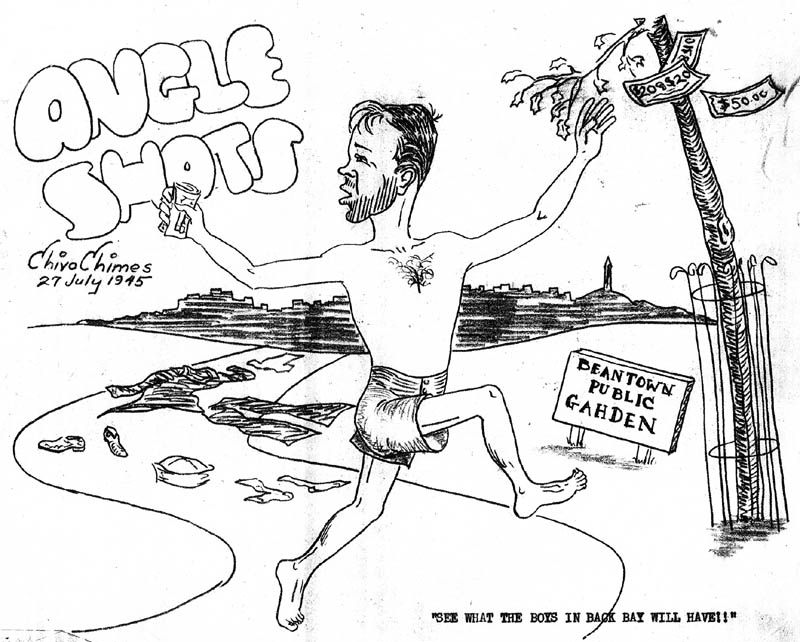 "SEE WHAT THE BOYS IN BACK BAY WILL HAVE!"
(CONTINUED)
---
PAGE 6 (CONTINUED)

TOPICS OF THE CHIMES

KNOWN BY THE FOLLOWING TERMS OF ENDEARMENT: "MATRESS BACK", &quot'GRAVITY GUS", "THE MEDFORD MONSTER", "SYNCHRO SAM THE ELECTRICIAN MAN", "THE HAIRBREADTH HARRY OF CASABLANCA".

HOPEFULLY LOOKS FOR THE DAY WHEN HE CAN CATCH AN LIBERTY AND HANG A "TO BE FIXED TOMORROW" SIGN ON THE BRIDGE.

HAS A PASSION FOR SPEED. IS PROUD OF THE 24 KNOTS HE MADE ABOARD THE WHALE - - - IN DRYDOCK.

HIS IDEAL CONDUCT ASHORE HAS RESULTED IN THE LAUDATORY PHRASE "MAKING A BIG MORRISSEY OF HIMSELF". THIS TYPE OF BEACH ACTIVITY INDICATES A FEW HOURS AWAY FROM THE MADDENING PACE OF THE CHIVO SPENT IN A QUIET CUL-DE-PAC LIKE THE SUB RESTAURANT. HERE "WATER CLOSET" MORRISSEY QUIETLY REPOSES AND VIEWS THE PASSING THRONG - - - PASSING OVER HIM.

THE CARTOON IS SELF-EXPLANATORY. IT PRESENTS IN MODEST TERMS THE REAL MORRISSEY WHO IS FOREVER ATTEMPTING TO RETURN TO NATURE. SOME OF HIS MISUNDERSTANDING COHORTS CALL HIM "THROW 'EM AWAY"; BUT BASICALLY MORRISSEY IS A "PETER PAN" TYPE OF CHARACTER - - - FOREVER SEEKING THE SIMPLE, RUSTIC LIFE....
---
THAT'S ALL FOR TONIGHT FELLOWS.
WE HAVE RUN OUT OF ONION SKIN PAPER SO THE REASON FOR ONLY FOUR COPIES OF THE CHIMES TONIGHT. PLEASE PASS THIS ALONG WHEN YOU HAVE FINISHED AND GIVE SOME OF YOUR SHIPMATES A CHANCE FOR A MOMENTS ENJOYMENT TOO.
---
[BACK]
---